Diamond Cut Franco Chains - The Ultimate Guide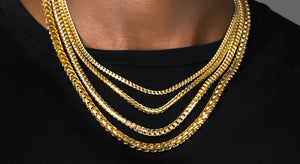 Here at Proclamation Jewelry, we have been selling the highest quality Solid Gold Diamond Cut Franco Chains in the world for years. During that time, we have received thousands of questions about them. In this article I will answer the most popular questions to help you make an educated decision on how to buy the men's Diamond Cut Franco Chain that is right for you. Scroll down to select the question(s) you want specific answers to or start by watching this video to see sizes 3mm, 4mm, 4.5mm, 5mm, 6.5mm and 7mm diamond cut franco chains up close and compare the appearance and weights:
(click on a link to jump to the section/answers)
What is a Franco Chain?
What does "Diamond Cut" mean?
What is the difference between Regular and Diamond Cut Franco?
Are Diamond Cut Franco Chains solid?
What gold DC Franco chain WIDTH should I choose?
What Diamond Cut Franco Chain LENGTH should I choose?
What is the difference between yellow, rose, and white gold chains?
What gold color should I choose based on my skin tone?
What gold karat should I choose for my chain?
Where are diamond cut franco chains made?
How many grams are the chains?
Are diamond cut franco chains a good choice to wear with pendants?
Will the signature clasp fit through my pendant bail?
Can I return or exchange my gold chain?
Do the chains come with a warranty?
Is the chain solid gold or hollow?
What are my payment options?
How long does it take to ship?
Where are the chains made?
Is the chain rhodium plated?
Is the chain stamped?
Where will my chain ship from?
Is the clasp the same material as the chain?
Where is the Proclamation Signature Clasp made?
There are 3 ways to read this article: 
Start by watching the video below to see the chains up close.

Read the text below all the way through to become an expert.

Use the index above to skip ahead to a specific question you may have.
or any combination of the 3...
Whatever you choose, at the end you will know how to buy a Gold Diamond Cut Franco Chain and why I believe they are the KING of men's gold chains. Let's Go!! 🚀
​​​​​​​
First of all...  What is a Franco Chain?
Let's start with the origins - a "Franco" chain is a beautiful and masculine gold necklace link that was designed in Italy and inspired by the popular pattern of the curb link. The main difference is that the Franco chain links are V-shaped with significantly more intricacy than the curb link, while still maintaining the desirable qualities like the strength and durability of the curb. 
​​​​​​​
What does "Diamond Cut" mean?
Diamond Cuts are simply a Faceting that is applied like notches all the way around every link to give the chain more of a sparkle. With a regular Franco Chain you will have an even shine around the smooth surface, but with the diamond cuts you will see many more reflections as a result of the faceting. Think about it like this - what would sparkle more at a party - a smooth silver globe hanging from the ceiling or a disco ball? The disco ball is going to sparkle a lot more and in many different ways due to all of the facets that have been notched into it. That is the same way the diamond cut version of the Franco Chain sparkles more. Neither way is necessarily better than the other but, when making your decision, you must ask yourself the question - do you prefer more or less sparkle?
​​​​​​​
What is the difference between Regular and Diamond Cut Franco?
As we covered already, the Diamond Cut Franco Chain is simply a Franco Chain with "diamond cuts" on the links, but there are other notable differences as well. The other main difference is going to be the "profile" of the chain. The profile is simply the outline of a shape. For example, the profile of a round metal tube is a circle, where the profile of a 4' x 4' wooden fence post is a square. The profile of a Regular Franco chain is typically more "squarish" where a Diamond Cut Franco chain has more of a "rounded" profile. Aesthetically, this mostly comes down to preference but it matters for important functional reasons as well - First, the more rounded profile of a Solid Gold Diamond Cut Franco Chain give it more "fluidity" meaning it is more flexible and will move around more naturally and with less resistance while in your hand and around your neck. Some believe this makes it more comfortable. Secondly, the rounded profile makes the Diamond Cut Chain more preferable for wearing pendants because it allows the pendant to move around more freely on the chain. 
​​​​​​​
Are Diamond Cut Franco Chains solid?
At Proclamation Jewelry, all of our gold Diamond Cut Franco Chains are solid gold. There are many hollow versions of men's gold chains but we choose to provide the highest quality of men's jewelry that will last a lifetime, without having to worry about the integrity of the product. The main concern with hollow chains is that they will break under stressful situations where solid chains would likely hold up. The other BIG difference is, of course, the weight. Weight is often associated with quality, especially when it comes to precious metals like gold. For the highest quality, best feeling, and longest lasting gold chain, go with solid when you can.
​​​​​​​
What gold DC Franco chain WIDTH should I choose?
When it comes to choosing a men's gold necklace width, the most common sizes are 3mm, 4mm, and 5mm. Don't be fooled, although 1mm increments seem small, each minor size increase comes with MAJOR differences in appearance, weight, and price. So how do you make a decision? Here are some considerations to help you out with that:
Appearance:

For an understated yet noticeable complement to your wardrobe, a shorter chain that you just want to add some pop around your neck, or something to wear a small pendant on, go with 3mm. If you're looking for something that stands out, makes you look like a "classy baller," carries some serious weight, or you want to wear with a big/heavy pendant, go with 5mm. And for something in the middle that is the best of both worlds and you can wear to almost any occasion, with or without any size pendant, 4mm is for you.

Weight:

The weight increase from going up 1mm in width is exponential. For example, the 26" 4mm 14k gold Diamond Cut Franco chain weighs in at 54 grams while the same chain in 5mm weighs in at 96 grams. With an ounce of gold weighing 31.1 grams, that is an extra 1.35 ounces of gold for the 5mm chain. 

Budget:

With the weight of the chains jumping up so much from one width to the next, it is no wonder that price jumps up along with it. 
 Additionally, if you're in a white collar or corporate profession or you work regularly with people that are (medicine, attorney, corporate executive, technology, etc..) you may want to stick to 3mm or 4mm, or purchase multiple chains so that you can wear the thinner chain during work hours and the larger gauge during time off. 
​​​​​​​
What Diamond Cut Franco Chain length should I choose?
Although there are many factors to consider when choosing a solid gold chain length, and ultimately it will come down to preference, there are 6 simple questions you can ask yourself if you're having difficulty deciding. Start by answering one or all of the following questions:
What is your build?
Both length and width can be tailored to your build. Don't complicate it though - If you're a large man, go thicker and longer. If you're more of a nimble gent, select thinner and shorter. As general rules, 3mm chains are most popular in the 18-24" lengths, 4mm gold chains are suitable for 20-28" lengths, and 5mm men's gold chains favor 24-30" lengths. 
What will you wear it with?

Let it shine with a slightly fitted solid black or white luxury T-Shirt (4 or 5mm width, 22-28mm length), or, for a slightly more understated look, let it pop a hint of dazzle underneath a crisp Tom Ford button down with just the top 2 buttons open (3mm width, 18-22 inch length). Suits every day? 3mm or 4mm are probably best.  
What will you put on it?

If you're going to wear a pendant with the chain every day then you may want to scale your gold chain to your gold pendant. All of our chains pair well with

one of our sleek pendants,

but you may have a micro pendant (pair with 3mm chain), or a massive iced-out bespoke pendant that weighs 20 ounces and boasts 50 carats of diamonds (pair with 5mm). The majority of men's gold pendants on the market will pair well with a 4mm Diamond Cut Franco Chain from a size and strength standpoint.
What is the statement you want to make?

If you're buying a luxury gold chain to begin with, it's safe to assume that you aren't afraid to stand out in the crowd. So what is the statement you want to make? Do you have an understated and simple street style that you want to complement with a hint of gold dazzle (3mm)? Are you a built fitness influencer looking to rock a chain at the gym or maybe you want something to wear with your Robert Graham outfit on the weekends (4mm). Whether you just like a thicker chain or you want to make a big statement about your status as you enjoy driving your McLaren and partying like a Rock Star, 5mm is probably for you. 
What is your environment?

Are you a surgeon spending most of your time in the hospital? 3mm will likely be the way to go. Are you an entrepreneur that likes to sport louder brands like Philipp Plein or Louis Vuitton with the 18k Audemar Piguet on your wrist while driving your new Lamborghini? Consider the 5mm chain. There are very few situations where 4mm is not universally acceptable.
What is your preference?

At the end of the day, this gold chain is for you. Others will notice you wearing it and you want it to match your lifestyle and image, but make sure you go with something that feels right. Be true to yourself.
​​​​​​​
What is the difference between yellow, rose, and white gold diamond cut franco chains?
To make the most of your diamond cut franco chain, choose the color that matches your other accessories, complements your skin tone and your wardrobe, and, ultimately, the one that you prefer the most. So, if you have other rose gold jewelry, such as rose gold rings, cufflinks, bracelets, and watches, then select the matching necklace. For the most cohesive look, I recommend matching the gold karat as well since different karats have different hues which we'll discuss more later. 
Each gold color has its own character and sends off a different message about the wearer, which is another way to determine the color that is right for you. Here are the common characteristics of each:
Yellow Gold
Gold is yellow in its naturally occurring state, making yellow gold the traditional and timeless choice of Kings, Pharaohs, Sultans, and Emperors. It is an instantly recognizable symbol associated with power, wealth, and success, and an obvious choice if you're wanting to make a statement about your status. It's appealing richness and bold aesthetic give it a fresh appearance that works in all styles of men's gold chains. It is also one of the most resistant metal choices, as it will not rust, tarnish or corrode, retaining its beautiful golden glow for generations. Yellow Gold will eternally endure as the Champion of men's gold jewelry and its resilient qualities make it a wonderful choice for any solid gold necklace.
White Gold
This precious metal has a modern appeal with a sleek, understated look. It's bright white color is an incredibly popular choice among those that want the powerful qualities and value of gold in their men's jewelry, but prefer a more subtle look than yellow gold since white gold could be mistaken for silver at a quick glance. But look more closely and feel the jewelry and the differences will become obvious with white gold's weight, strength, and non-tarnishing and corrosion-resistant properties, not to mention it's market value. To give it that highly sought after bright sheen, white gold chains are plated with rhodium. Over time and depending on the wear and tear of the jewelry, rhodium plating may wear away and need replacing every 12-18 months to maintain its original luster and radiance. In conclusion, choose a solid white gold chain if you don't want to stand out too much or if you simply just like it. 
Rose Gold
For those with a tasteful appetite for something a little off the beaten path, rose gold offers a variety of beautiful options. It is a wonderfully versatile alloy that complements almost any skin tone or wardrobe, as well as most colored gemstones. Men's rose gold chains are a mix of yellow gold, silver, and copper, giving them the signature pinkish color that emits a warm and fascinating hue, It is this pink color that also makes it a great choice for every skin tone. Wearers will forever enjoy the mesmerizing glow emitted from this iconic metal, designed for beauty, strength and style. If you plan to wear other jewelry in addition to your sold gold chain, rose gold is an excellent choice. Like a well-mannered puppy, it plays well with others and will likely match the other white or yellow gold accessories you wear regularly.  
I personally can't get enough of this gorgeous alloy and look forward to really making it stand out if you choose to use it in your collection.
What gold color should I choose based on my skin tone?

When it comes to skin tone, you will likely fall into either the warm, cool, or neutral categories. If you already know your skin tone, skip to the next paragraph. If not, identify your Undertones, the colors beneath the skin, by looking at the veins in your wrist. Greenish veins typically suggest warm undertones. Blue or purplish veins are likely cool undertones. Neutral undertones are usually suggested by colorless or seemingly invisible veins. 
Once you've discovered your skin's undertones, follow these simple guidelines to choose the gold color the complements it best.
Warm Undertones lend themselves nicely to the warm and rich hues of Yellow Gold Chains. 
Cool Undertones will blend perfectly with the cool sheen of luxurious White Gold Chains.
Neutral Undertones are well suited for Rose Gold Chains, but rose gold's versatility complements all skin tones. 
What gold karat should I choose for my chain?
Gold is timeless. It's classic beauty and richness make Gold the most popular metal for jewelry. Pure gold is 24 karats. Because it is a soft metal in its natural state, pure gold is combined with other metals to create a harder, more durable alloy and to alter its color to create white, rose, or yellow shades. 
​​​​​​​
Where are diamond cut franco chains made?
All of our Diamond Cut Franco chains are crafted in Italy and imported here to the USA. Italy has long been renowned for its excellence in craftsmanship and innovation in style and the gold DC Franco chains that we sell live up to that reputation. 
If you purchase your men's gold chain with the Proclamation Jewelry Signature Clasp, that aspect of the piece will be handcrafted here in the United States and assembled to your Italian chain here as well. 
How many grams are the chains?
Since the diamond cut franco chains that we sell are completely solid, they tend to be on the heavier side of chain weights. For exact weights, check the product page of the chain that you are interested in. We do our best to provide you with as much information about every gold chain we sell so that you can make the most educated decision about your purchase. 
Are diamond cut franco chains a good choice to wear with pendants?
Another reason DC Franco chains are one of the most well-loved and versatile gold necklaces available is because they operate so well with pendants. Fluid, Strong, Profile, aesthetic Their interlocking links, which resemble curb links, give them one of the highest strength ratings, which keeps them from breaking and is ideal for carrying the weight of a pendant day after day. The link structure also allows them to move fluidly, not rigidly such as the box chain or Miami Cuban link, which makes the chain extremely comfortable and lets a pendant hang and move naturally. The rounded profile of the links also allows for free and unrestricted movement of the pendant, whereas with other chain styles the pendant may get stuck in a certain position or be prevented from its natural movement. Finally, diamond cut franco chains are a beautiful and luxurious link that enhances the appearance of any pendant. Where some chains look cheap and don't match a luxury pendant, DC Franco chains complement both simple and intricate designs and are associated with sophistication and affluence.
Will the signature clasp fit through my pendant bail?
Our Signature Clasps are one of the crowning achievements of Proclamation Jewelry, as years of experience went into designing and engineering them. They take what is traditionally the ugliest part of the chain, the clasp, and turn it into an elegant centerpiece and conversation starter. In addition to being beautiful, we knew that they also had to be practical. Too heavy and they would weigh the chain down, too big and they would look out of place and prevent pendants from sliding onto the chain. So, each signature clasp is only slightly thicker than the chain that it is assembled to. Most men's pendants will fit effortlessly over the clasp and all of the Proclamation Jewelry pendants fit every chain we sell. 
Can I return or exchange my gold chain?
Exchanges or Returns of a new, unworn Proclamation piece will be accepted within 14 days of original purchase date. Returns must include all original packaging. We will accept any new, unworn Proclamation piece for exchange; you pay only the price difference, if applicable, and shipping charges. Apparel returns will be accepted at our discretion for a store credit only. Customized jewelry item sales are final and are not eligible for exchange or return.
See more and read our full policy HERE
​​​​​​​
Do the chains come with a warranty?
We stand by the quality of every single piece that leaves our artisan workshop. Therefore, each jewelry piece we craft comes with a Lifetime Guarantee against any defects in materials or craftsmanship. Read the full warranty HERE
​​​​​​​
Is the chain solid gold or hollow?
Unless otherwise indicated, all of the gold chains we sell at Proclamation Jewelry are solid. We do offer hollow or semi-solid options, primarily by request, but we have found over the years that the best experience for our collectors is to own a solid gold chain. Solid gold chains offer strength that will stand the test of time, peace of mind that the gold jewelry you have invested in will be secure and resilient, and a weight that is almost synonymous with quality. A search across the globe for the highest standards in solid gold chains will land you right back here where we stand by the quality of our products with industry-leading warranties and guarantees. 
​​​​​​​
What are my payment options?
When you are ready to purchase one of our gold chains, you have many payment options. Of course we accept all major credit cards, including Visa, Mastercard, Discover, and American Express, but we also offer less traditional payment methods which include: PayPal, Apple Pay, Amazon Pay, Google Pay, Shop Pay, Elo, and Financing through KLARNA. KLARNA offers great pay-over-time options in a very simple and short approval process. 
​​​​​​​
How long does it take to ship?
It is always our goal to provide your purchase to you as fast as humanly possible. Because we are a custom jewelry company and many of our pieces are made-to-order, delivery times can be slightly longer than usual. Our pieces are always worth the wait, but here are a few standard timeframes - If you choose a gold chain with the standard Luxury Lobster Clasp, you can typically expect to receive your order within 3-5 days of it being placed. Since our Signature Clasps are made-to-order, we ask that you please allow up to 3 weeks for delivery on chains that include that customization. There are some cases where we have chains in stock with the Signature clasp already assembled, as well as rare occasions that we have a lapse in inventory. So be sure to inquire via chat or phone, or by emailing help@proclamationjewelry.com to confirm.
Where are the chains made?
Although some of our chains are handmade in the USA, our solid gold diamond cut franco chains are crafted in Italy. 
Is the chain rhodium plated?
All of our white gold chains are rhodium plated for added protection to the surface of the metal. Additionally, as white gold ages it can tarnish to a very subtle yellow hue. The rhodium plating not only protects and gives the links an added bright shine, but also prolongs the tarnishing process. 
Is the chain stamped?
Yes. Every men's gold chain we sell is stamped with the hallmark of your chosen material. Gold chains have a variety of stamping options. For example, an 18k gold chain may be stamped "18k", "18 karat", or "750" - 750 translate to 75% which is the amount of pure gold (24 karat) that 18k gold is comprised of. Look on the clasp of your chain to find its respective hallmark stamping.
Where will my chain ship from?
Every piece of men's jewelry sold here at Proclamation Jewelry ships from our location in Houston, Texas. While some of our chains are handcrafted here in the USA, most of the chains are imported from Italy. If you choose to have a Signature Clasp added to your chain, it will be 100% handcrafted here in the USA before we assemble it to your chain and ship from our Houston location.
Is the clasp the same material as the chain?
Yes. Our Signature Clasps are casted in the same material as the chain that you select. 
Where is the Proclamation Signature Clasp made?
Our Signature Clasps are 100% designed, crafted, and assembled to your chosen chain here in the USA. 
Our Signature Clasps are 100% designed, crafted, and assembled to your chosen chain here in the USA. 
Leave a comment
Comments will be approved before showing up.