Gold Cross Necklaces For Men - The Ultimate Guide on How to Wear Them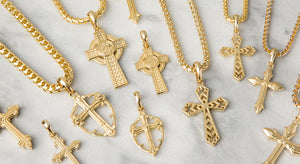 As men, we have limited options when it comes to jewelry. But when it comes to gold cross necklaces for men, it's one accessory that never goes out of style. Whether it's for religious reasons, personal style, or as a fashion statement, a gold cross chain can elevate your look and add a touch of sophistication to any wardrobe. For stylish men, it can be especially important to accessorize with the right pieces in order to present yourself in the best light. But how do you choose the perfect gold cross necklace? And more importantly, how do you wear and style it? In this guide, we will give you tips on how to wear and style your gold cross pendant like a pro so that you can look sharp wherever life takes you. 
You will learn:
​​​​​​​
What is the Best Gold Cross Pendant Size
If you're in the market for a gold cross pendant, you might be wondering what size is best for the guys out there. Well, my dear friends, the answer is simple: it really depends on your personal preference and style. If you're a big guy with broad shoulders or if you're rocking a thick chain and want your cross to be seen from a mile away, a larger pendant will likely suit you well. However, if you prefer a more understated look and want something more subtle, a smaller pendant may be more your speed. 
Remember, it's not always about the size of the cross, it's about the confidence with which you wear it. And let's be real, nothing screams "badass" like a man confidently rocking a gold cross pendant, no matter the size.
Ultimately, the best gold cross pendant size for men is the one that makes you feel confident and comfortable. So, whether you're channeling your inner warrior or simply want to add some sophistication to your wardrobe, a gold cross pendant is a timeless accessory that will never go out of style.
Whether you go big or go subtle, we have you covered at Proclamation Jewelry, because all of our mens gold cross pendants come in 2 sizes - small or large. Click here to browse the collections. 
​​​​​​​
How to Find your Personal Cross Style
Gentlemen, it's time to upgrade your neckwear game. A stylish gold cross will not only add a touch of sophistication and class to your wardrobe, but it also serves as a symbol of your faith. But with so many different styles to choose from, which one is the best? Personally, I believe that a sleek and simple design is the way to go. Opt for a polished, solid gold cross with clean lines and minimal embellishments. It's modern, timeless, and will elevate any outfit. So go ahead, make a statement with a gold cross that says, "I've got style and substance." That is what we aimed for when designing our collection of gold cross necklaces.
A few popular gold cross pendant styles are these:
You can check out the lineup HERE.
​​​​​​​
How to Pick the Right Gold Cross Chain Length
Before choosing the perfect style for your gold cross necklace, you must know the appropriate length for your body type. Different lengths are ideal for different necklines, shirt collars, and even facial structure. A rule of thumb is to keep the necklace at least 2 to 4 inches below your Adam's apple or opt for shorter necklaces. If you're going for a more religious look, choose a length that will make the cross sit at the center of your chest.
​​​​​​​
What is the Best Metal for a Men's Gold Pendant
When it comes to men's cross necklaces, there are plenty of metal options to choose from. If you've made the decision to go with gold as the primary metal, you will want a piece that's both durable and stylish. That's why 14 karat gold is the way to go. It has a richer, warmer color than lower-karat golds, like 10 karat, and it looks great against any skin tone. It's also stronger and more scratch-resistant than higher karat golds like 18k and 22k. Plus, with a karat rating of 14 (58.5% pure gold), it's the perfect balance between affordability and luxury. So, if you want a pendant that's both practical and dazzling, 14 karat gold cross necklaces should be at the top of your list.
What gold chain to wear with your cross pendant
A dapper gentleman knows that the right accessory can take his look from mediocre to magnificent. When it comes to pairing a men's gold pendant with the perfect chain, there is a lot to consider. Due to their strong link structure, comfortable rounded profiles, and ability to let pendants move smoothly, we recommend diamond cut franco chains or diamond cut rope chains. Not only do these chains exude a sense of sophistication, but they also add a touch of edginess to any outfit. With their intricate design and diamond cut detailing for extra sparkle, these chains will make you stand out from the crowd in the best way possible. So, whether you're dressing up for a night out or simply want to elevate your everyday style, a diamond cut chain is the ultimate finishing touch.
​​​​​​​
What Clothing to Wear With Your Cross
A gold cross necklace can be dressed up or down, depending on your occasion. For formal events, you can layer it with a more understated gold chain and pair it with a black or navy suit. Investing in a high-quality gold cross necklace can add a touch of luxury to your formal outfit. For semi-formal events, wearing it with a dress shirt and chinos is perfect. For a casual look, your gold cross necklace can be styled with a plain white or black tee-shirt and denim jeans. Adding layers to your outfit has become a fashion trend that's not going anywhere soon. You can easily implement layers with your mens gold cross necklace. 
Adding in a matching gold bracelet, the perfect gold ring, or even this gold Tungsten ring, which is the ultimate mens ring, can make for a really nice, cohesive and edgier look as well. 
​​​​​​​
When to Wear Mens Crosses
Some guys may think that gold cross necklaces are only for religious events, but in reality, these necklaces can be worn as a daily fashion statement or for cultural reasons. Depending on your cultural background, the gold cross necklace can have different meanings. For example, in Italian fashion, gold chains and cross necklaces are a way to display status and prosperity. In Latin culture, it's sometimes seen as an emblematic symbol of faith. For many others, including Americans and other Europeans, it serves as a daily reminder to live the teachings of Jesus Christ and the Christian philosophy. Therefore, you can find the meaning that is personal to you and wear your cross with pride for any occasion.
Conclusion:
Mens gold cross necklaces have proven to be a timeless accessory that adds an extra element of style to any outfit. As a stylish man, owning a high-quality gold cross necklace can polish your look and elevate your brand. By following our guide on how to wear and style your gold cross necklace, you can be sure to look your best wherever you go. Don't be afraid to experiment and find a style that feels authentic to you. Remember, a gold cross necklace is not just an accessory, but a statement of your personal style.
Leave a comment
Comments will be approved before showing up.